Whether you are a refined Indian chef or a budding newbie, your kitchen would not be complete without the key Indian spices that – when combined – will make the perfect curry. The Indian Masala Box (or Tin), also known as a Masala Dabba Spice Box, is used by traditional Indian home cooks and an increasing number of people worldwide to store these important spices, keep them fresh, and also have them on hand all in one spot.
This article will teach you what kind of stainless steel masala box you need (and that no kitchen should be without! ), the fascinating background of it, and some insider tricks for preserving the flavor and freshness of your spices for as long as possible.
In order to store and preserve the freshness of your spices, a masala Dabba spice box is normally one sizable (often circular) stainless steel pan with an airtight top. It is a well-liked spice jar that is frequently used in Indian cuisine.
There are seven separate tins inside that you can use to decant your spices, as well as a metal serving spoon that you can use to measure your spices precisely. You should consider a number of variables when selecting an Indian spice box. First, consider the variety and quality of spices you want to keep on hand, as well as their size, texture, and most crucially, the material.
You should definitely have a stainless steel masala box in your kitchen. This is so that you have access to the full spectrum of spices you need to prepare any Indian curry thanks to the variety of spices you may store in our spice tin.
Can a wooden box be used to store masala?
We wouldn't advise keeping your exquisite spices in a wooden box for a variety of reasons. First of all, spices are attractive, and their color makes any kitchen more lively and interesting. We prefer using a stainless steel Indian spice tin to store our spices over a wooden one.
The stainless-steel tin with lid option offers an airtight solution, guaranteeing your spices stay as fresh as possible for longer, in addition to allowing you to see all of your gorgeous spices in one place. An airtight cover aids in keeping out air and moisture, two factors that work against the freshness of your Indian spices.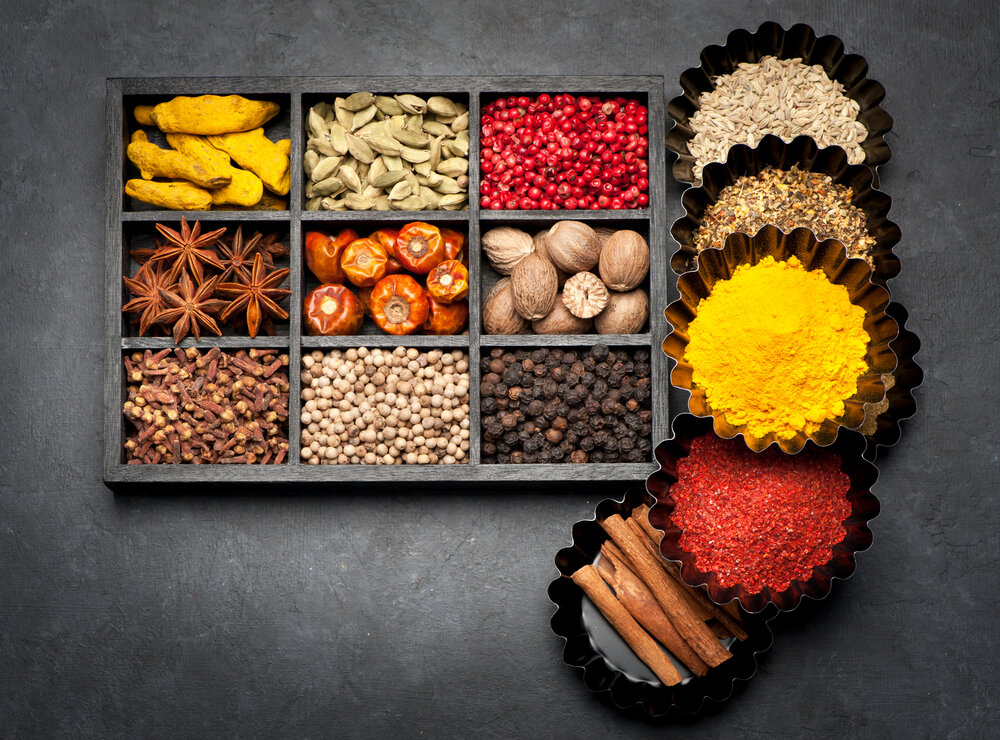 How are Indian spices kept in storage?
The most frequently used spices in Indian households are typically kept in a stainless steel spice box called a masala Dabba spice box. This, in our opinion, is the greatest solution for storing your favorite spices because they will all be together in one airtight container.
How is a masala box cleaned?
Your Indian Stainless Steel Masala Box can be cleaned the same way you would any other kitchen appliance, with hot, soapy water.
Just be careful not to use any rough, abrasive scouring pads while cleaning your Indian Spice Box as these can scratch and harm the stainless-steel container. To clean your Masala Dabba Spice Box effectively, you must first make sure it is completely dry before adding any spices. This entails letting it dry on your sink unit before thoroughly wiping both inside and out with a kitchen roll or a recently washed towel. Since moisture can build here, take additional care to dry the area around the seal and on the underside of the lid. Be patient when waiting for your storage container to dry after washing it because water is one of the worst things that can happen to your spice collection.
In conclusion…
Your go-to "buddy in the kitchen" when you want to prepare a delicious curry for your family or loved ones is a Masala Dabba Spice Box. It will keep all of your favorite spices together, keeping them fresh and flavorful for a lot longer than if you kept them in unsealed packets in your cabinet. Keep in mind that the secret to outstanding flavor is using fresh spices, so keep them out of direct sunlight and any other sources of oven heat.
Your stainless steel masala box has space to hold the seven key spices for Indian cooking, so you'll have everything you need on hand to make practically any dish.